You can't buy a home. You can only make one.
A home is a sanctuary, more than just a roof over your head. And likely your biggest and best investment. We are committed to making your home look, function, and most importantly, feel its very best. With over 13 years of Northwest contracting under our tool belts, we help our clients put their own unique vision into practice—from custom cabinetry to remodels of all shapes and sizes. We make it happen on time and on budget.
It's no secret how to do great work: focus on quality—no matter the scope. We accomplish great results by starting with a comprehensive detailed estimate, the best materials, and a solid plan—keeping our clients informed throughout the process. We work with integrity and love what we do. It's that simple.

Master suite remodels
Custom cabinetry & shelving
Bathroom installs & remodels
Kitchen installs & remodels
Custom decks and pergolas
Deck installations & repairs
Plumbing upgrades
Indoor & outdoor lighting upgrades
Custom window, door & wall installation & repair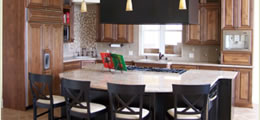 I pride myself on a high level of quality and workmanship, and enjoy helping people create a better environment and home."
—Bryon Hart